Investor Relations' Perspective
Noticeable recovery from the October lows, but IGD's stock still has ample upside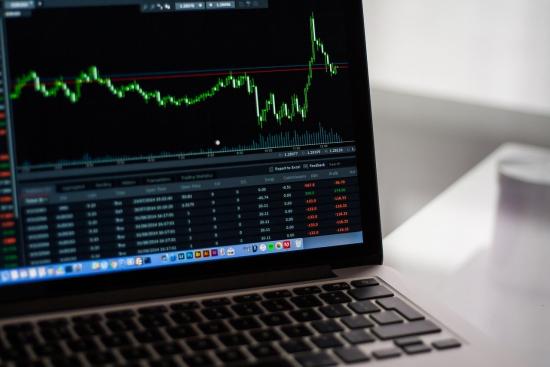 At the end of October IGD's stock rallied significantly, rising more than 55%, thanks to the resiliency demonstrated by its operating metrics in the period May-October 2020, when the anti-Covid restrictions were eased. Even at around €4 the stock, however, is still trading at a strong discount.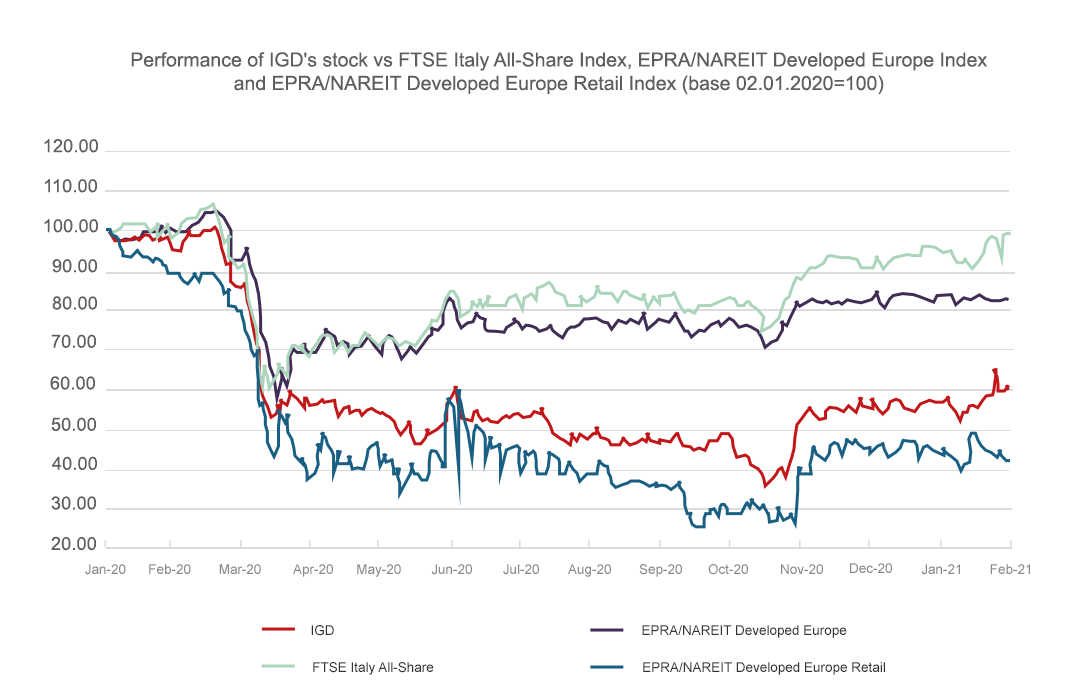 Source: Italian Stock Exchange and EPRA data compiled by IGD
While IGD's stock has underperformed the two benchmarks, FTSE Italy All-share and EPRA/NAREIT Developed Europe, since the beginning of 2020, it has outperformed the retail real estate index, EPRA/NAREIT Developed Europe Retail.
IGD's valuation is better than the average of other equities belonging to the shopping center sector; the sector has suffered, since the pandemic struck at the end of February 2020, from the negative perception that investors have of the sector with concerns about the competition of e-commerce and weak consumption in a recessionary environment. Thanks to the strong positioning in their respective catchment areas and their medium size, IGD's assets, however, been impacted less by the anti-Covid restrictions than other jumbo shopping centers with larger, less local, catchment areas
The fact that since the last edition of this newsletter, published at the beginning of last November, IGD's stock has recovered substantially is also encouraging: as of the low for the year of €2.47 hit on 28 October, the stock price has, in fact, risen 55.1% to reach €3.83 on 17 February 2021. Thanks to this rebound IGD's stock outperformed both the European real estate sector index (which rose 15.5% in the same time period) and the Italian stock market index (which rose 30.7%). Following the publication last 5 November of IGD's consolidated results for the first nine months of 2020, the market was able to verify the resilience of the indicators relative to footfalls and retailers' sales, as well as the effectiveness of the actions taken to safeguard the Group's financial solidity, which sustained the outperformance of IGD's stock in the last few months.
Despite this recovery, the stock continues to trade at very low multiples. At recent levels, still below €4, there is still ample upside as demonstrated by the significant gap with respect to the EPRA NAV/NRV 2020 of €10.38 per share calculated based on the property appraisals at 31 December 2020. The discount with respect to the consensus target price of the analysts covering the stock of €4.64 also provides a similar signal.  In light, precisely, of this discount, three out of five brokers have a Buy/Outperform rating on IGD, while the remainder have issued Hold/Neutral recommendations. No broker has a issued a Sell recommendation.
Share