The co-marketing project between IGD and Coop Alleanza 3.0 takes off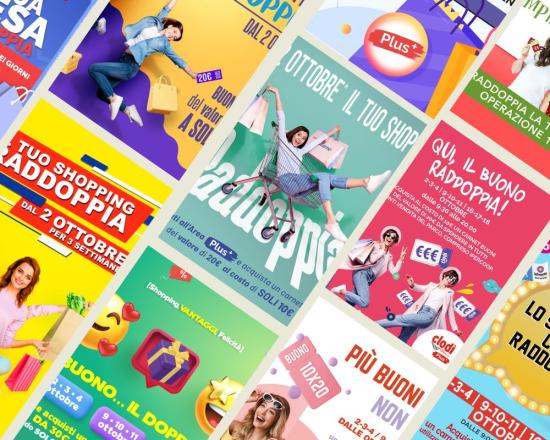 As a result of the agreement with Coop announced on April 21st, broad scope initiatives were born which are currently taking shape. In this column we are going to talk about IGD's strong commitment to this project and the tools that will be used to augment footfalls and tenants' sales by asking Francesco Soldi, IGD's Director of Marketing and CSR a few questions.
Could you just quickly remind us how this co-marketing project with Coop Alleanza 3.0 materialized?
The desire to render their respective Business Plans, launched between 2021 and 2022, as effective as possible is the cornerstone of the whole partnership between IGD and Coop Alleanza 3.0 as both are focused on commercial aspects and marketing.  The performance of the hypermarket and the mall are closely related: for this reason, we wanted to reply to the consumers' new needs and spending habits together through a joint effort focused on ensuring the best performances of the entire shopping center.  We decided, therefore, to launch the project in 12 IGD centers with Coop Alleanza 3.0 hypermarkets located in four regions: Veneto, Emilia-Romagna, Marche and Abruzzo. The collaboration focuses on three areas: communication, digital and advertising.
What goals have you achieved in terms of communication?
Communication is focused on giving visibility to the activities that take place inside the shopping center including new store openings, events or the promotions launched by a specific brand. This news is included in the more than 13 million flyers and newsletters that Coop sends every two weeks to its members.  At the end of the year, when the campaign will have run its course, we will have called attention to our news through a total of 20 million flyers. Our content was also included in the promotional material created and distributed by Coop when the restyling was completed at three hypermarkets: La Favorita in Mantua, Centro Borgo in Bologna and Centro Leonardo in Imola.
In terms of digital, what has been done?
As part of our partnership, one of our goals is to increase the number of subscribers to "Area Plus", the reserved area of our websites. Toward this end we encouraged members of Coop Alleanza 3.0 to subscribe to Area Plus by offering them exclusive promotions.  The initiatives are currently underway so it is too early to judge the result, but what we have noticed for now is that the Coop members seem interested in subscribing, most certainly thanks to the offers we have made (for example, an additional coupon book).
This, therefore, ties into the third area, namely advertising …
Exactly.  In this instance, the goal is to generate traffic in the malls while also increasing retailer's' sales through specific initiatives conceived together with Coop. Along the same lines, in October we launched the "Raddoppia il tuo shopping" ("Double your shopping") initiative: shoppers have access to approximately 50,000 coupons of between 20 and 30 euros simply by paying half the amount.  IGD made a direct cash contribution to the initiative thanks to which the coupons can be used for purchases through 31 December 2022. The initiative, currently underway, also promotes traffic as the coupons are distributed inside the shopping center.
This is clearly an important event for IGD.  How did the tenants react?
IGD wanted to invest directly in this project:  we have always supported our tenants, including during the most difficult moments of the pandemic because we are well aware of how important their contribution is to the health of our shopping centers. It's still too early to tell what impact this initiative had on the retailers' sales.  When similar initiatives were organized in the past, we saw that shoppers used their coupons in mall stores by the expiration date.  What we have seen already is that the retailers are interested. They have supported the initiative from the beginning and have worked with use to ensure that it is carried out correctly.
The partnership with Coop Alleanza 3.0, therefore, will remain a one-off initiative or can it be considered the beginning of a longer path of partnerships with other, important tenants in your malls?
The co-marketing project with Coop Alleanza 3.0 is the first of its kind to be carried out by IGD. It made sense, therefore, to conceptualize and launch it with the main tenant in our shopping centers. This current project will be over by the end of the year; once completed, we will assess the results together with Coop in order to understand if and how to repeat it in the future.  At the same time, we view this initiative as a test run, in terms of both planning and implementation, which can help to build partnerships with other tenants that are even more productive in terms of marketing within the context of the long-term relationships we typically establish with them.
Share