Health Island: together for sustainable nutrition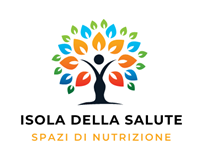 A few of IGD's Italian shopping centers are hosting Health Island, a positioning project which highlights important aspects of our health to benefit of the shopping center customers who will be offered a free and targeted service relating to a very important aspect of health: nutrition.
Inside the shopping centers listed below, there will be an area set up where those customers who are interested may sign up for a free, personalized consultation of around 30 minutes with a nutritionist from A.D.I. or Associazione Italiana di Dietetica e Nutrizione Clinica), upon registration.
Each customer who signs up for the personalized consultation with the nutritionist will receive an anthropometric evaluation which can be used to gain a better picture of one's health, with regard specifically to nutrition and eating habits.
At the Health Island a brochure, 10 questions about low environmental impact healthy eating habits will also be available.
As a result of the pandemic, people are looking for more information about health, including with relating to nutrition. For this reason, we decided to find ways to provide accurate and practical ideas about lifestyle and the lowest environmental impact eating habits.
The Health Island Tour is an initiative developed by Planning Events for Gruppo IGD in order to promote an experience which enhances the shopping center space by sharing valid content and information in an important area like HEALTH.
You can sign up for the consultation with a nutritionist at the shopping center Health Island desk on the registration dates from 9.00 a.m. to 7.00 p.m. or through the AreaPlus section found on each shopping center's website.
This confirms how IGD's shopping centers are committed to meeting the needs of the local community, which is made clear by the numerous events and services provided. A specific focus which also results in non-commercial events like Health Island.
For more information you can visit the ADI's website https://www.adiitalia.org/
Health Island Tour dates: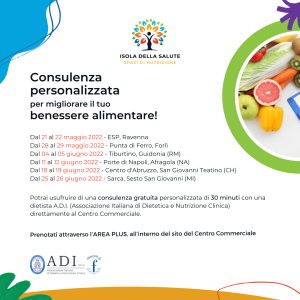 Youtube Video
Dr. Annalisa Maghetti, a doctor specialized in nutritional sciences, Chair of ADI (Associazione Italiana di Dietetica e Nutrizione Clinica) in Emilia Romagna recorded four video pills in which:
presents the Health Island project that will be carried out at 6 IGD shopping centers;
explains what the consultation offered through the Health Island project;
provides 10 recommendations relating to nutrition, wellbeing and environmental sustainability;
the 10 questions for a correct diet with low environmental impact.
Share