Retail news
shopping centers
A series of stimulating initiatives to attract visitors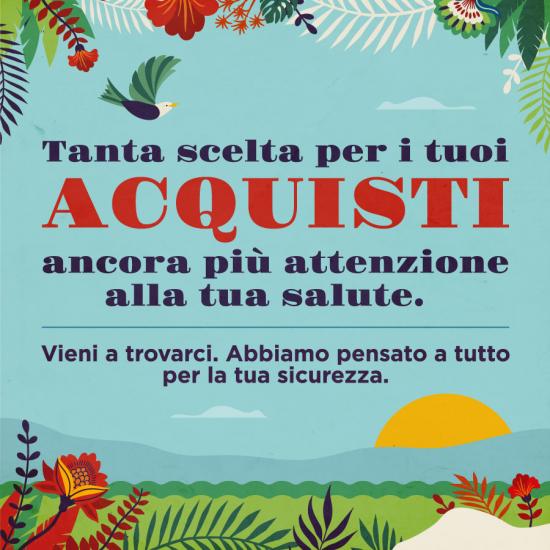 In the era of social distancing, IGD is getting even closer to customers.
Through communication campaigns, promotions and sweepstakes IGD wants to encourage visitors to return to the shopping center.
A well thought-out program with adequate financial resources that has all the right ingredients to be effective.
Following the reopenings allowed by the government as of 18 May, IGD was quick to develop extensive communication and marketing campaigns, both centralized and for each individual shopping center.
Beginning at the end of May, a communication campaign was launched in local newspapers, after purchasing half page and full page advertising spaces, and inside the shopping centers. A series of articles published in different print media at the same time as the launch of the newspaper campaign enhanced its impact.
The campaign focused on two clear, direct messages: the abundance of the merchandise found at the shopping centers and the guarantee to be able to shop in total safety.
A formula conceived, including with regard to its graphic design, to transmit the idea of a place that is safe but, at the same time, attractive.
The first results of the communication campaign

7 million total views on social media

47 appearances in 25 newspapers and 12 local news websites

The campaign, which spanned a period of around twenty days beginning at the end of May, has already had a positive impact. IGD has, in fact, noticed a decrease in the difference between the footfalls recorded in the same weeks of 2019.
A series of different initiatives were launched in each shopping center. In order to bring people back and increase retailers' sales. Everywhere organized events were substituted with promotional initiatives.
Coupons
One of the most common transversal initiatives was the giving out of coupons to be used for purchases or restaurant services.
10 euros for 20 euros in coupons to be used in shopping centers  
Among the promotional initiatives, in July an engaging promotion which ensures 100% redemption, which had already been tested in some shopping centers, was launched at these centers. The initiative calls for a hostess to give each visitor coupons worth a total of 20 euros, to be used inside the centers, for every 10 euros received.
The "Concorsone" will resume in October with double the budget
After the summer holidays the "Concorsone", which was very well received in 2019 by both visitors and tenants (who have said that they are very willing to collaborate), will be back.
During the period of the Concorsone once again this year receipts will be read at totems found in the shopping centers and prizes and vouchers to used in the stores will be awarded.
Share