News
No Price Sensitive
Sustainability news
Important recognition for IGD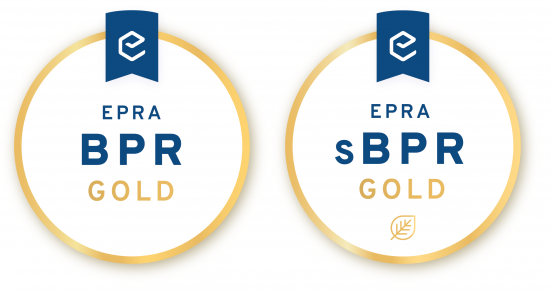 EPRA confirms the GOLD AWARD for IGD's 2019 Consolidated Annual Report and the 2019 Corporate Sustainability Report.
The appointment of Claudio Albertini as a member of EPRA's Advisory Board renewed.
Highest Legality Rating possible awarded again.
IGD – Immobiliare Grande Distribuzione SIIQ S.p.A. is pleased to announce that yesterday during EPRA (European Public Real Estate Association)'s first Virtual Conference the Company received two important international awards for the level of compliance with the Associations's Best Practices Recommendations, which represent the highest European standards for transparency,  comparability and reporting of key business performance indicators.
For the third year in a row IGD received the "EPRA BPR Gold Award" (Best Practice Recommendations) for its 2019 Consolidated Annual Report. This prize testifies to the Company's continuous commitment to maintaining the greatest possible transparency and comparability in its communication, which benefits investors, the financial community and all the Group's stakeholders. EPRA awarded this prize after examining the annual reports of 168 European sector companies.
For the sixth consective year IGD also received the ' "EPRA sBPR Gold Award" (sustainability Best Practice Recommendations), for the 2019 Corporate Sustainability Report which was assigned after examining the annual reports of 152 European sector companies. This prize confirms the high standards achieved by IGD in terms of sustainability reporting.
Yesterday Claudio Albertini, the Company's Chief Executive Officer, was also confirmed for another three-year term as a member of EPRA's Advisory Board. He is the only representative of the Italian real estate sector.
On 1 September 2020 the Company's 3-star legality rating, the highest rating possible, was renewed by the Italian Competition Authority (Autorità Garante della Concorrenza e del Mercato or AGCM). Maintaining the highest score of three-stars is one of the objectives included in the Group's Sustainability strategy and confirms the commitment to meeting the highest ethical/social and governance standards.
For more information on IGD's sustainability strategies please refer to the Sustainability Section of the of the website www.gruppoigd.it
Share