The point of view
business
results
The Chief Executive Officer's Point of View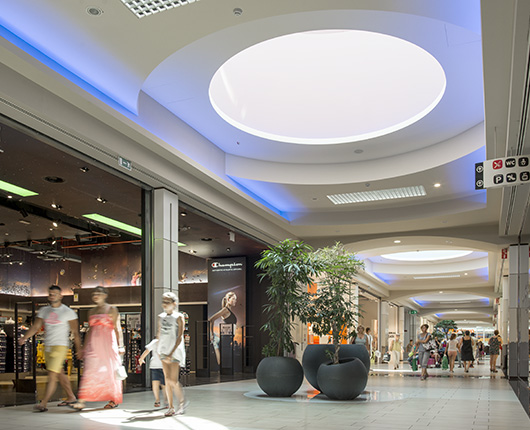 Dear Shareholders,
2017 opens with the positive signals that emerge from the first quarter results.
The bottom line of the income statement shows an increase of 13.0%, which reflects both the improved operational management (EBIT was up by 7.6%), and the positive contribution of financial management linked to the decrease in the cost of debt (which fell from the 3.3% recorded in the first quarter of 2016 to 3.1%).
The operational metrics, in particular, provide a comforting picture of the efficacy of IGD's commercial activities which reflect the policies implemented some time ago and the work done every day to put these same policies into practice.
During the quarter the average upside of the new contracts signed with mall tenants reached 3.8% in Italy and 2.8% in Romania. Occupancy is still high; 97.2% for the Italian malls and 96% for the Romanian ones.
The conditions in which we had to work were not always favorable. During the first two months of the year, in fact, the combined effect of the different calendar (a weekend and a Sunday closed in January and a less day of operation in February compared to 2016) and the weather conditions (linked to the significant snowstorms that hit central Italy particularly hard in January) impacted the footfalls in our shopping centers. In the first quarter of 2017 footfalls in Italy fell 2.7%, but sales of mall retailers held, rising 1.1% against first quarter 2016.
Our income statement shows that the operating results fueled an increase in like-for-like rental income of 2.0% for the Italian malls and of 6.8% for the Romanian ones.
In the first quarter the indicator that best summarizes the efficacy of our operations, namely FFO (Funds from Operations), rose €1.44 million, €1.38 million of which attributable to the core business, to €15.59 million as a result of the increase in EBITDA.
The 10.2% increase in FFO recorded in the quarter provides a valid premise for confirming our previous guidance for 2017 of an increase in FFO of around 18-19%.
Over the next few months, in fact, we expect that the inauguration of the ESP extension in Ravenna, which is slotted to open 1 June with occupancy close to 100%, will give a further boost to EBITDA. On the other hand, this dynamic will be accompanied by the positive impact of a further, accelerated decrease in financial expense: a phenomenon that we already observed in the first quarter, during which an improvement of €120 thousand was recorded, which is destined to increase significantly thanks to the effects of the liability management carried out in the past few months.
The factors driving FFO that I mentioned, in terms of both operational and financial management, are, therefore, highly visible.
We can, therefore, focus on the work that lies ahead confident in the knowledge that we are following the path outlined in the Business Plan.
Share