Focus sustainability
shopping centers
sustainability
waste
Breaking news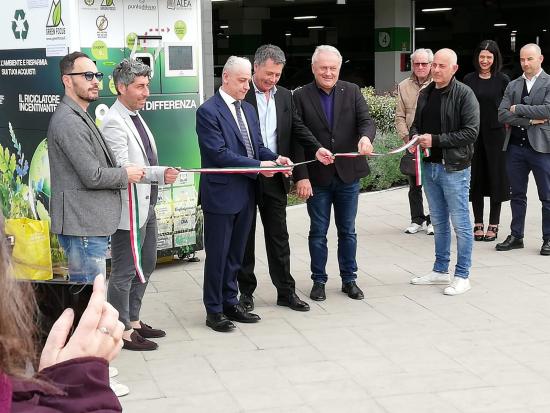 BREEAM IN USE CERTIFICATION FOR ESP AND PUNTADIFERRO
Make cities and human settlements inclusive, safe, resilient and sustainable.

Companies must adopt production processes that take into account the protection of the cultural and natural heritage of the place in which they operate.
IGD strives constantly to improve the environmental performances of its shopping centers, through continuous work on asset management and structural investments. In 2016 IGD embarked on the path leading to BREEAM (Building Research Establishment Environmental Assessment Method) certification, which takes into account the wellbeing of shopping center visitors. In March 2019 the Puntadiferro and ESP Shopping centers obtained BREEAM in use certification.
The Puntadiferro mall received a "very good" in asset performance and "good" in building management; the ESP mall extension received an "excellent" in asset performance and "good" in building management, while the original portion of the mall received a "very good" in asset performance and "good" in Building management.
After having obtained the last two certifications, the number of certified assets climbs to 5: Tiburtino (Rome), Katanè (CT), ESP (RA), Puntadiferro (FC), BREEAM In Use, and Centro Sarca (MI), which was  BREEAM certified in 2016.
CHARGING STATIONS FOR ELECTRIC CARS TO BE INSTALLED IN 18 SHOPPING CENTERS
Make cities and human settlements inclusive, safe, resilient and sustainable.

Companies must promote green mobility both within and beyond the companies themselves.
The company's commitment to sustainable management and reducing the environmental impact of its shopping centers is also expressed through incentivizing and supporting green mobility.
After installing charging stations for electric cars at Centro ESP in Ravenna and Maremà in Grosseto, IGD recently signed an agreement with Enerhub for the installation of 32 charging stations in 18 shopping centers.
Enerhub S.R.L., a NewCo held 60% by Consorzio Esperienza Energia s.c.r.l. and 40% by Alleanza Luce e Gas S.p.A, has developed a smart system for charging electric cars and, by signing this agreement, has committed to meeting the current and future needs for sophisticated and sustainable urban mobility.
The agreements calls for the installation of charging stations capable of delivering up to 44kW of power through two charging points, each with a maximum capacity of 22 kW. Work will begin in May-June 2019 at shopping centers in Emilia Romagna.
For IGD SIIQ electric mobility represents a significant opportunity to both contribute to the sustainable development of the cities in which it operates and provide another service in its centers to citizens who have chosen to go electric.
ECO-COMPACTOR INSTALLED AT PUNTADIFERRO
Ensure sustainable consumption and production patterns.

Companies must promote an increased use of recyclable and biodegradable materials in their production processes, invest in sustainable technologies that improve consumption and production patterns and participate in workshops and seminars to disseminate good practices on circular economy issues.
On 6 April 2019 an eco-compactor for plastic waste was inaugurated at the Puntadiferro Shopping Center in Forlì. The compactor has an automated system for the collection and compaction of bottles in PET plastic, a high quality plastic material for which a specific recycling system is useful in order to avoid mixing it with lower quality plastic materials.
IGD was an active part of this innovative project born and developed locally, in collaboration with the municipality of Forlì, Alea Ambiente (the municipal waste management company) and the company Green Focus, which installed the first eco-compactor for both IGD's network of properties and the city of Forlì.
IGD, which has been involved in other circular economy and responsible consumption initiatives for years, decided to take part in the project well aware how important and necessary managing plastic waste is. For this reason IGD made a part of the shopping center's main entrance, which attracts significant traffic flow, available for the installation of the collection system. The eco-compactor provides the shopping center with the possibility to provide incentives and benefits like discounts, coupons and other reward systems, that can be used in participating mall stores.
The service was obtained good results immediately, as shown by the great number of recycled bottles registered in the first week of operation (around 3 thousand) and the strong interest of the local media.
Share