Investor Relations' Perspective
Many factors make IGD's stock attractive at current prices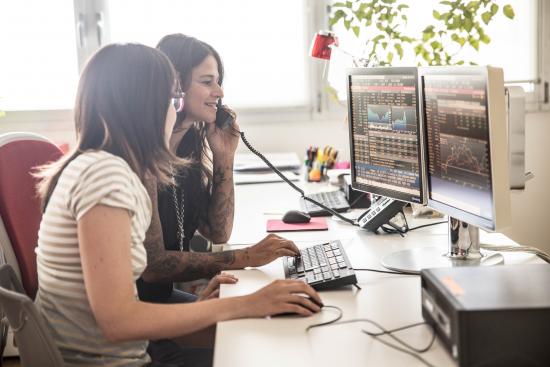 IGD's stock performance has been volatile in the most recent months as a result of the capital transaction underway and the uncertainty about the direction of interest rates; in the last few weeks, however, IGD's stock has shown that it is driven more by the Company's fundamentals. The yield of the dividend that will be paid on 11 June, the discount against the NAV and the consensus target price, as well as the good results for the first quarter are all elements that will sustain the stock price over the next few months.

Source: Italian Stock Exchange and EPRA data compiled by IGD
After the conclusion of the capital increase on 18 April and the closing, consequently, of the €200 million acquisition, today IGD's stock is trading at levels in line with last fall before the expectation that the real estate sector would be included in the investment universe of the PIR triggered a strong rally; an expectation which contributed to the stock closing the year at period highs.
In the first months of 2018, while the capital transaction was yet to be executed, IGD's stock was faced with a general market environment that was not always favorable. Trade pressures and geopolitical tension were coupled with the concerns about a more rapid normalization of monetary policies should inflation accelerate. From April on, the ECB's confirmation that interest rates would remain a current levels well beyond the QE period and the signals pointing to a certain slowdown in the global economic growth – and, therefore, that inflation was under control – allowed the stock markets to resume on a positive note. Both the real estate sector and the Italian indices, therefore, returned to the highs of January 2018.
IGD's stock, which at the €7.85 recorded on 4 May has already recovered about 20% against the low of €6.55 posted on 23 March, still has significant upside. On the one hand the consensus target price of brokers covering the stock is €9.78 and, on the other, the EPRA Triple Net Asset Value per share after the capital increase came to €11.4 euro: meaning that with respect to the price at 4 May 2018 the stock has a potential upside of 24.6% and 45.2%, respectively. The dividend yield of IGD's stock is also very attractive: based, once again, on the price recorded on 4 May, the yield of the dividend proposed for 2017 reaches 6.4%.
Share