The shopping center sector in Italy
IGD is one of the main players in Italy's retail real estate sector: it develops and manages shopping centers throughout Italy.
In Italy there were 1,254 retail hubs1 at 31 December 2018; 1,021 of which shopping centers covering a GLA of more than 15,900,000 m2 (all shopping centers included in this calculation have a GLA of more than 5,000 m2 and at least 7 units).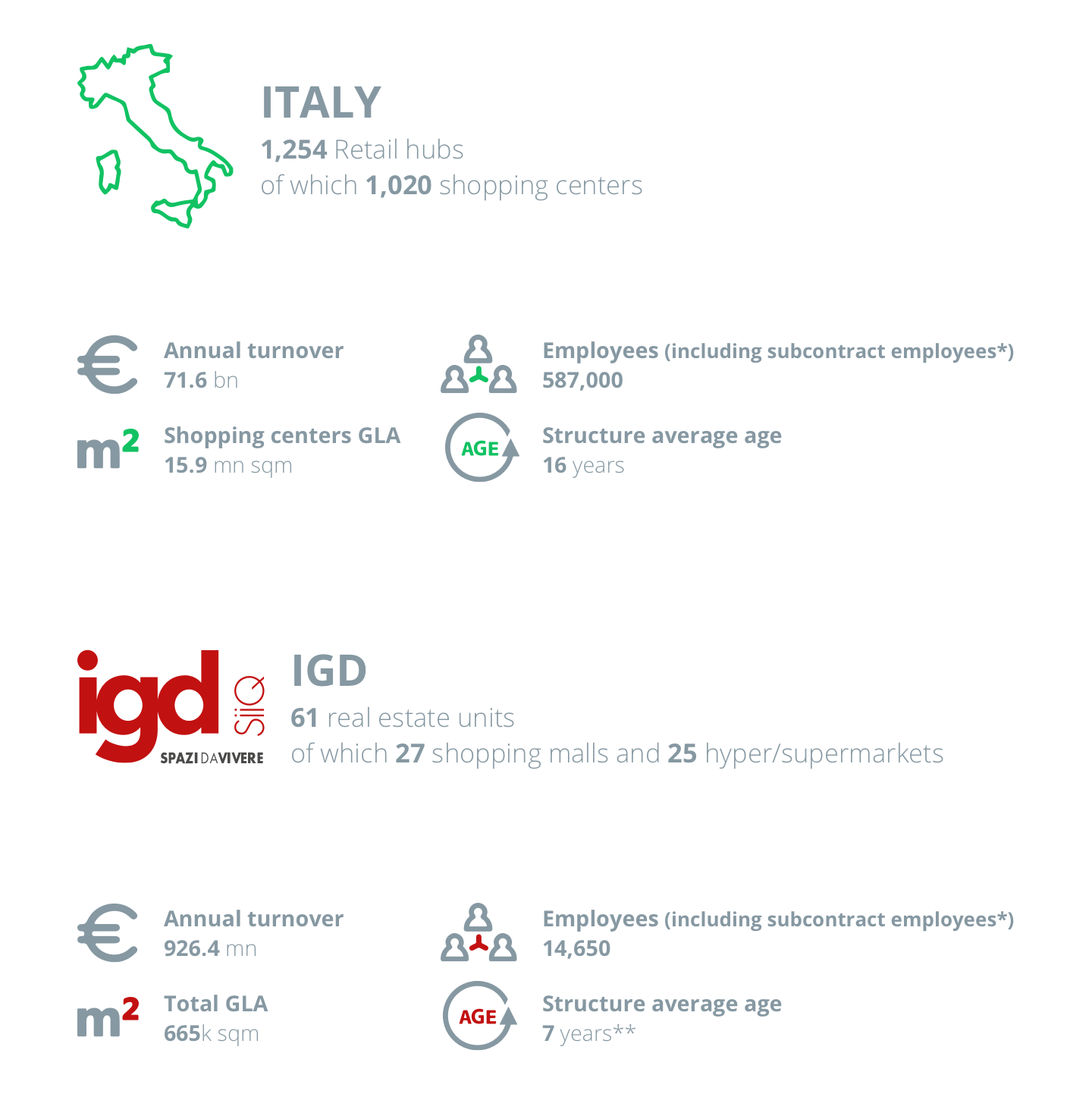 *Subcontract employees refer to all the people that work within the supply chain and that guarantee the daily functioning of the structures, by providing services to help run the Shopping Center (for example cleaning and security) and marketing services (communication and event organisation).
**date since the opening or the last restyling
The small/mid-size shopping centers (with a GLA of less than 40,000 m2), which typically have strong ties with the local community, accounts for 96% of all the shopping centers in Italy.  The prevalence of this type of center reflects demographic distribution in Italy where a large part of the population lives in the numerous mid-size cities.
IGD's portfolio fits well in this context as most of its portfolio is comprised of midsize centers located just on the outskirts of cities; the choice was, in fact, made to focus on mid/large size centers with a dominant position2 in their reference catchment areas: at 31 December 2018 more than 75% of the market value of the malls and hypermarkets that IGD has in Italy have a dominant position in their catchment areas.
The shopping center market in Italy is also very fragmented, with few operators that hold significant market shares3; currently IGD has a market share of 4% in terms of GLA (with a total GLA of around 665,000 m2 at 31 December 2018) and is the sector's main Italian player.
1 Retail hubs include shopping centers, retail parks, leisure centers and factory outlets
2 Dominant assets: assets that are points of reference for consumers looking for an appealing and quality offer in their respective catchment areas 
3 No operators controls more than 10% of the market