Even though IGD is not immune to the geopolitical factors and the global market conditions that fueled the stock market selloffs in 2022, the stock outperformed the European real estate sector index thanks to its stable fundamentals.
As IGD has a clear equity story to tell, company management begun to participate once again in the investor conferences held in international financial hubs.
The institutional investors that IGD met with recently in Paris are aware of the challenges facing the retail real estate sector, but also take into account that the 2022-2024 Plan presented by the Company in December contains a valid strategy for ensuring an operating and financial performance which guarantees a compelling flow of dividends moving forward.
Let's learn more about these topics by speaking with Raffaele Nardi, Director of Planning, Control and Investor Relations and Claudia Contarini, the Head of the Investor Relations team.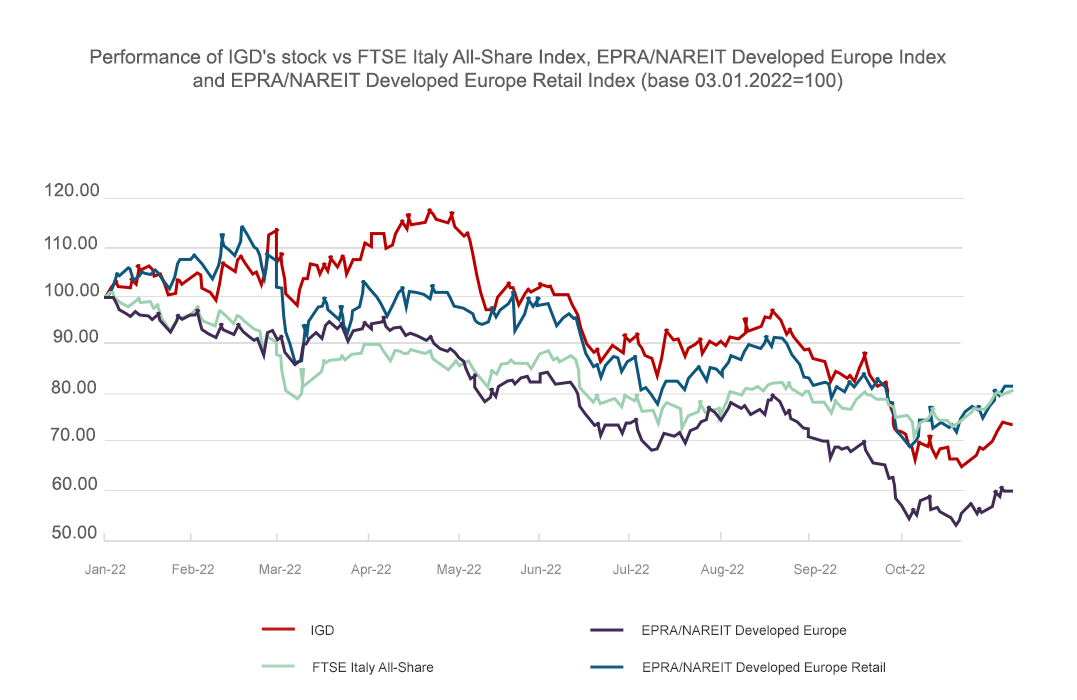 Source: Italian Stock Exchange and EPRA data compiled by IGD
How and where did IGD meet recently with investors?
On October 11th we participated in "2022 Italian Excellences", the Mid-Corporate Conference organized by the Intesa SanPaolo Group in Paris in partnership with Borsa Italiana. Together with 37 other companies listed on the Euronext STAR Milan segment, during this event we had a chance to meet with Italian and French investors. This is the first time that IGD has appeared in an international financial setting after a two-year absence due to the pandemic. We had good meetings, with interesting questions. Investors, which are aware of the complex situation underway fueled by geopolitical tensions and the energy crisis which is testing European countries, were interested in understanding the impact on individual companies.
How do domestic and international investors perceive IGD's stock currently?
Fund managers are aware that in the last few years the retail real estate segment has suffered hits that could have knocked it out: first the threat of eCommerce, then the restrictions imposed in order to limit Covid-19 contagion, put pressure on shopping centers. The typical IGD format, with medium-sized assets dominant in their respective catchment areas, however, proved to still be valid and able to also survive changing consumer trends. Investors did not fail to note that in-person shopping continues to be essential to the success of retailers who must find a balance between the different sales channels and break free from the metrics that were valid in the past, like the sales per square meter of leased space.
What aspects did their questions focus on?
In general fund managers are convinced that our 2022-2024 Business Plan is set up very effectively, from an operational, property and financial standpoint. They also showed interest in understanding the reaction of our tenants in the first few months of 2022 and if rents are sustainable in a year that was not dominated by restrictions, but during which footfalls have failed to return to pre-pandemic levels even though the average ticket is higher. They wanted to know more about what we do, as the owner and manager of shopping centers, to maintain a high level of appeal and ensure an efficient use of energy, given the amount used for HVAC systems. Appreciation was expressed for both the energy efficiency measures implemented, as well as the investments made over time in solar energy.
What recommendations did the investors make during these meetings?
Basically, they suggested that we continue to deliver good financial-economic results each quarter, consistent with the plan, so that we can confirm our equity story as a dividend company. The dividend for 2021 of €0.35 paid by IGD on May 11th, moreover, confirms this important aspect of shareholder remuneration. At current levels, even investors that owned IGD and then sold it due to a generally negative view of the sector, are seriously considering getting back in and taking a position. Despite the fears that the economy will slow down due to the restrictive monetary measures implemented to offset inflation, investors, above all with a long-term vision, can see that at current levels it is now a good time to buy IGD's stock at historically low multiples, while also receiving a steady flow of dividends over time.
What upcoming commitments are on the Investor Relations' calendar?
On November 16th we will participate in the CEO Conference organized by Exane BNP Paribas, the pan-European broker who has been covering our stock for more than a year. We hope that this will provide us with another opportunity to tell our story to potential investors with great clarity and transparency so that they can easily compare us with other companies they are thinking about including in their portfolios.
What is IGD doing to ensure that investors and analysts can easily compare the Company's results with those of other sector companies?
Our Annual Report and Corporate Sustainability Report are always prepared in accordance with EPRA recommendations, to the extent that we have received the highest award possible ("Gold") in the best practices category on several occasions. In the near future we also plan on working to achieve SBTi, Science Based Target initiative, certification for having reduced our greenhouse gas (GHG) emissions.